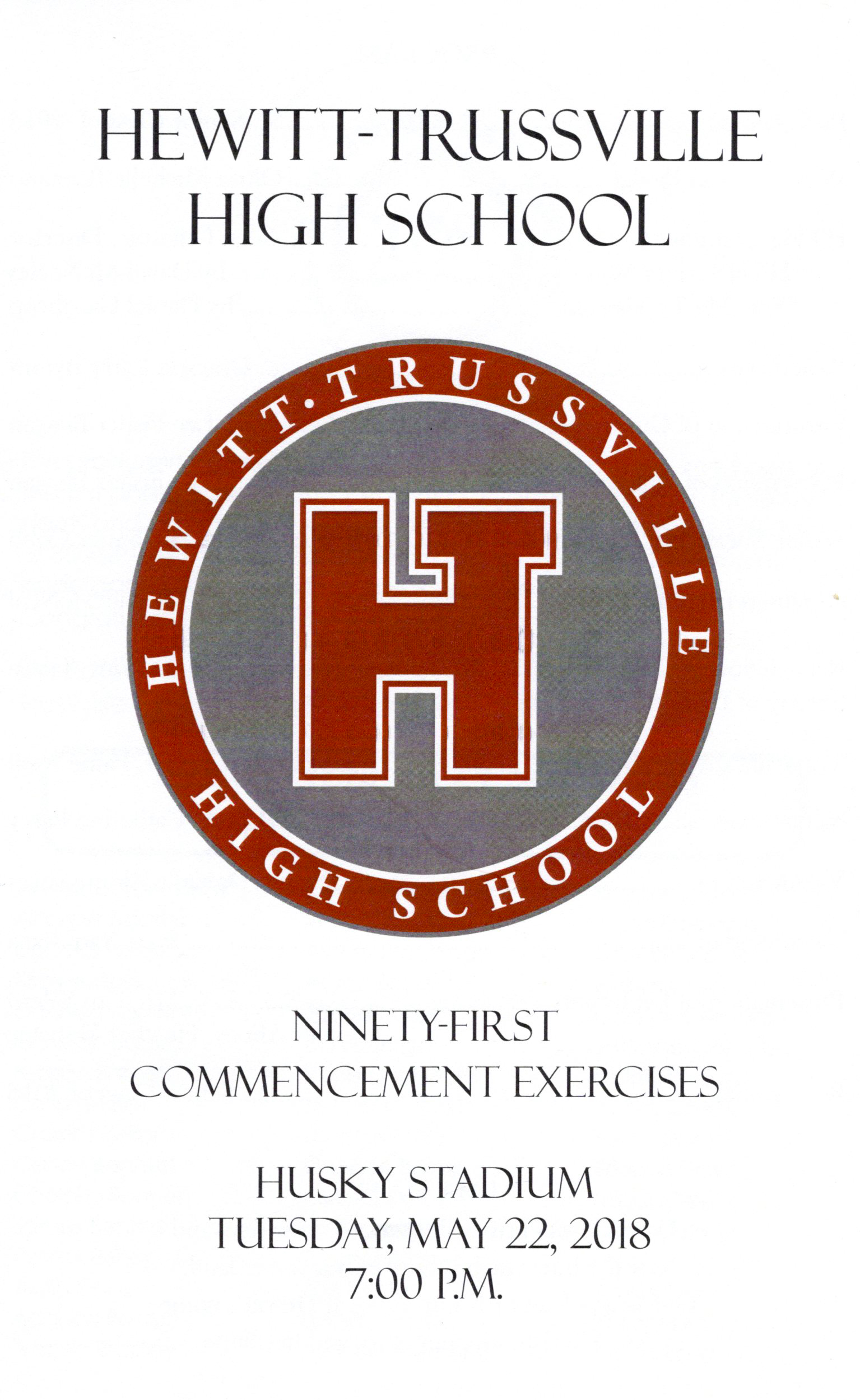 Click the program cover above to access 2018 Graduation pictures.
Please continue to check back later, as more pictures will be added.
Pictures are very high resolution. Feel free to download and
crop the photos to suit your needs and for printing purposes.
Congratulations to the class of 2018!
We are so proud of you!
Due to the unpredictability of this evening'sweather
and advisement from the National Weather Service,
Hewitt-Trussville's 2018 graduation will
be inside at Bryant Jordan Bank Arena tonight at HTHS.
Doors open at 6:00 and ceremony begins at 7:00.
Shuttle buses will run from Deerfoot Baptist Church starting at 5:45. Graduates need to arrive at 5:30.
White tickets for the arena and red tickets for the auditorium.
___________________________________________________________________________________
HTHS SPRING 2018 EXAM SCHEDULE
***SENIORS ONLY***
Wednesday, May 16
3rd period 9:49-11:15
5th period 12:18-1:44
7th period 1:49-3:15
Thursday, May 17
2nd period 8:15-9:50
6th period 12:45-2:15
***ALL STUDENTS***
Friday, May 18
1st period 8:15-10:15
4th period 10:25-12:25
lunch/dismissal if check-out form submitted 12:25-12:55
staff lunch 12:30-1:30
grading/classroom 1:30-3:15 (buses run at 3:15) (senior grades posted)
Monday, May 21
2nd period 8:15-10:15
5th period 10:25-12:25
lunch/dismissal if check-out form submitted 12:25-12:55
staff lunch 12:30-1:30
grading/classroom 1:30-3:15 (buses run at 3:15)
Tuesday, May 22
3rd period 8:15-10:15
6th period 10:25-12:25
lunch/dismissal if check-out form submitted 12:25-12:55
staff lunch 12:30-1:30
grading/classroom 1:30-3:15 (buses run at 3:15)
Wednesday, May 23
7th period 8:15-10:15
lunch/dismissal if check-out form submitted 10:15-10:45
grading/classroom 10:45-12:00 (buses run at 12:00)
staff lunch 12:00-1:00
grading/make-up exam 1:00-3:15 (FINAL GRADES posted by 2:00)
_______________________________________________________________________________
Returning 11th & 12th Grade Registration
for the 2018-19 school year Click Here
______________________________________________________